Raspberry Pi 5 (8 GB RAM)
Description
Note: The maximum order quantity for the Raspberry Pi 5 is currently limited to one piece per customer/household. Please do not place multiple orders, as these will be detected and cancelled by our system. In case of repeated multiple orders, we reserve the right to charge a cancellation fee of 5 EUR plus VAT per order.
---
Introducing the Raspberry Pi 5, a technological marvel poised to redefine computing capabilities at its scale! At its heart lies a powerful 64-bit quad-core Arm Cortex-A76 processor that zips along at a blistering 2.4GHz, offering a staggering 2-3x performance boost compared to its predecessor, the Raspberry Pi 4.
But that's not all. Dive into a visually immersive experience with its 800MHz VideoCore VII GPU. Imagine dual 4Kp60 displays, vividly rendering every pixel, powered by this tiny titan. Pair this with a revamped Raspberry Pi Image Signal Processor, and you've got a device that not only elevates your desktop experience but also paves the way for groundbreaking industrial applications.
For the very first time, we're presenting a full-fledged Raspberry Pi computer, proudly boasting our in-house designed silicon. The RP1 Southbridge is the genius behind the Raspberry Pi 5's enhanced I/O capabilities. It's not just an upgrade; it's a revolution. Experience over double the USB bandwidth, paving the way for swifter data transfers to high-speed peripherals like UAS drives. The previously seen two-lane 1Gbps MIPI interfaces for cameras and displays have evolved into a robust pair of four-lane 1.5Gbps MIPI transceivers. This triples the total bandwidth and offers unparalleled flexibility, allowing any mix of two cameras or displays.
But we didn't stop there. Revel in double the SD card performance courtesy of the SDR104 high-speed mode. And for those seeking the pinnacle of speed, for the first time ever, we're unveiling a single-lane PCI Express 2.0 interface, ensuring the Raspberry Pi 5 stands ready for all high-bandwidth peripheral challenges.
And last but not least, the Raspberry Pi 5 now features an On/Off button, mounting holes and a fan connector for an optional cooler, an additional UART port (compatible with the Raspberry Pi Debug Probe) and a connector for an optional, rechargeable RTC battery.
FAQs
Q: Is the Raspberry Pi 5 compatible with older Raspberry Pi OS versions?
A: No, the Raspberry Pi 5 requires a memory card with the latest Raspberry Pi OS "Bookworm". This OS is also compatible with older Raspberry Pi boards, but older images won't run on the Pi 5 in reverse.

Q: Which microSD card is recommended for the Pi 5?
A: The Raspberry Pi 5 offers significantly higher storage performance than its predecessors. Für erreichte Geschwindigkeit ist jedoch die richtige Speicherkarte entscheidend. Wir empfehlen hier die SanDisk Extreme Pro. It performed very well in our tests and offers short boot times and consistently high storage performance.

Q: Do I absolutely need a new power supply for the Raspberry Pi 5?
A: The Pi 5 also works with the Official Raspberry Pi 4 5V/3A USB-C Power Supply. However, for optimal performance, we recommend the new Raspberry Pi 27W 5V/5A USB-C power supply with USB PD support.

Q: What power consumption can be expected?
A: The Raspberry Pi 5 in idle mode consumes similar power as the Pi 4. Under full CPU load, it consumes about 3W more. However, the Pi 5 can supply the USB ports with up to 1.6A and therefore requires an adequately sized power supply.

Q: Does the Raspberry Pi 5 need cooling?
A: Even without additional cooling, the Pi 5 won't be damaged, but the CPU will throttle even under light load. We recommend a good cooling solution like the Raspberry Pi Active Cooler or the Official Raspberry Pi 5 case with an integrated fan.

Q: Are older Raspberry Pi cases compatible?
A: No, due to the new power button and changed positions of the USB/LAN ports, the Pi 5 cannot be fitted into cases designed for older Raspberry Pi boards.

Q: Are older HATs compatible?
A: Older HATs should generally be compatible with the Pi 5, with the exception of PoE-HATs, as the position of the PoE header has changed compared to the Pi 3B+ and Pi 4.

Q: Are the new MIPI ports of the Raspberry Pi 5 compatible with CSI camera modules and DSI displays for the Pi 4?
A: To use them together, you will need new CSI/DSI cables. Otherwise, CSI camera modules and DSI displays designed for the Raspberry Pi 4 are fully compatible with the Raspberry Pi 5. Camera modules intended for the Raspberry Pi Zero can be directly connected to the Pi 5.

Model Overview
Raspberry Pi 5
Raspberry Pi 4
CPU
4x 2.4 GHz (64-bit)
Broadcom BCM2712
(Cortex-A76, ARM v8)
4x 1.8 GHz (64-bit)
Broadcom BCM2711
(Cortex-A72, ARM v8)
GPU
800 MHz
VideoCore V3D VII
600 MHz
VideoCore V3D VI
RAM
4 GB / 8 GB
LPDDR4X
1 GB / 2 GB / 4 GB / 8 GB
LPDDR4
Southbridge
RP1 for USB, Ethernet, GPIO, UART, CSI/DSI
(via PCIe 2.0 x4)
PCIe Interface
1x PCIe 2.0 x1
Real-Time Clock (RTC)
optional
On/Off Button
Raspberry Pi 5
Raspberry Pi 4
SD Card
UHS-I microSD Slot
(SDR104, up to 104 MB/s)
max. 2 TB
UHS-I microSD Slot
(SDR50, up to 50 MB/s)
max. 2 TB
Connectivity
HDMI
2x micro-HDMI
(up to 2x 4Kp60)
2x micro-HDMI
(up to 2x 4Kp30 or 1x 4Kp60)
USB
2x USB 3.0 (5 Gb/s simultaneous)
2x USB 2.0
2x USB 3.0
2x USB 2.0
1x USB 2.0 OTG via USB-C
LAN
1x Gigabit Ethernet
(up to 1000 MBit/s)
WLAN
2.4 / 5.0 GHz IEEE 802.11b/g/n/ac
Bluetooth
Bluetooth 5.0, BLE
GPIO
Standard 40-pin GPIO Header
More
2x 4-Lane MIPI Ports (CSI/DSI)
1x UART Port
1x Fan Port
1x RTC Battery Port
1x 2-Lane DSI Display Port
1x 2-Lane CSI Camera Port
1x 4-Pin Stereo Audio / Composite Video Port
Multimedia
Hardware-
De-/Encoder
4Kp60 HEVC decoder
H.265 (4Kp60 Decoding)
H.264 (1080p60 Decoding, 1080p30 Encoding)
Graphics
OpenGL ES 3.1, Vulkan 1.3
OpenGL ES 3.0
Power
Power Supply
5V/5A (via USB-C, with PD support)
5V/3A (via USB-C)
PoE
PoE+ 802.3af/at via HAT
PoE 802.3af via HAT
Dimensions
88 x 56 x 19 mm
Production Lifetime
min. 01/2035
min. 01/2026
Features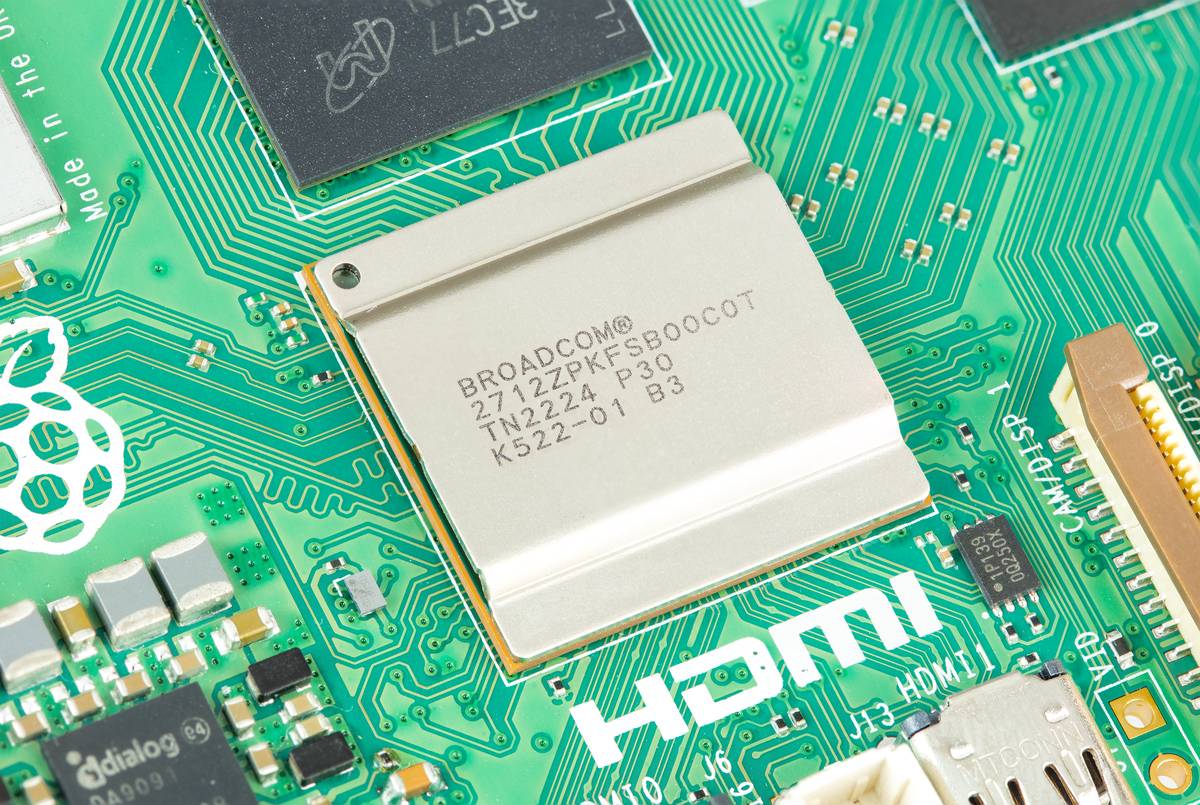 New processor with 4x2.4 GHz
The new BCM2712 CPU of the Raspberry Pi 5 with increased clock speed, Cortex-A76 architecture, and a new graphics unit is now 2-3 times faster than the Pi 4, providing desktop-level performance!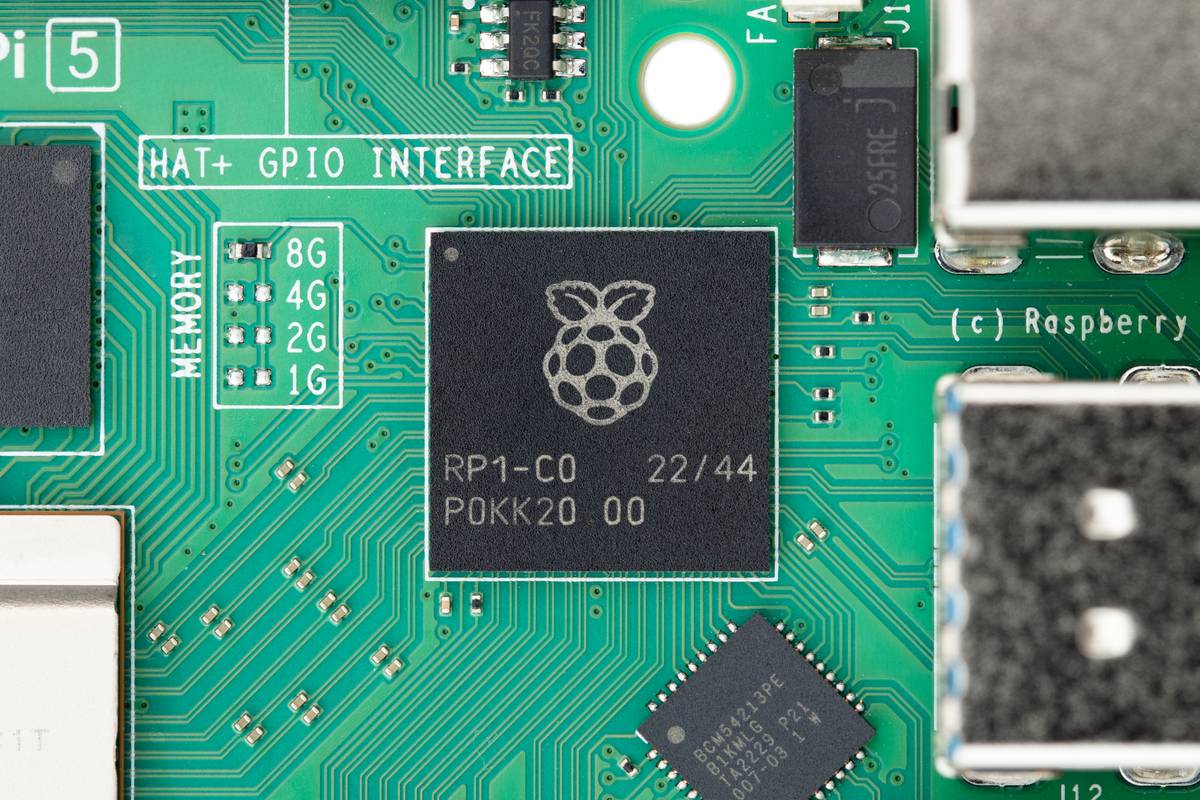 New Raspberry Pi RP1 Southbridge
The RP1 Southbridge has been completely redesigned by Raspberry Pi for the Pi 5. It is connected to the CPU via PCIe 2.0 x4 and controls the USB, LAN, GPIO, and MIPI ports at higher data rates than before.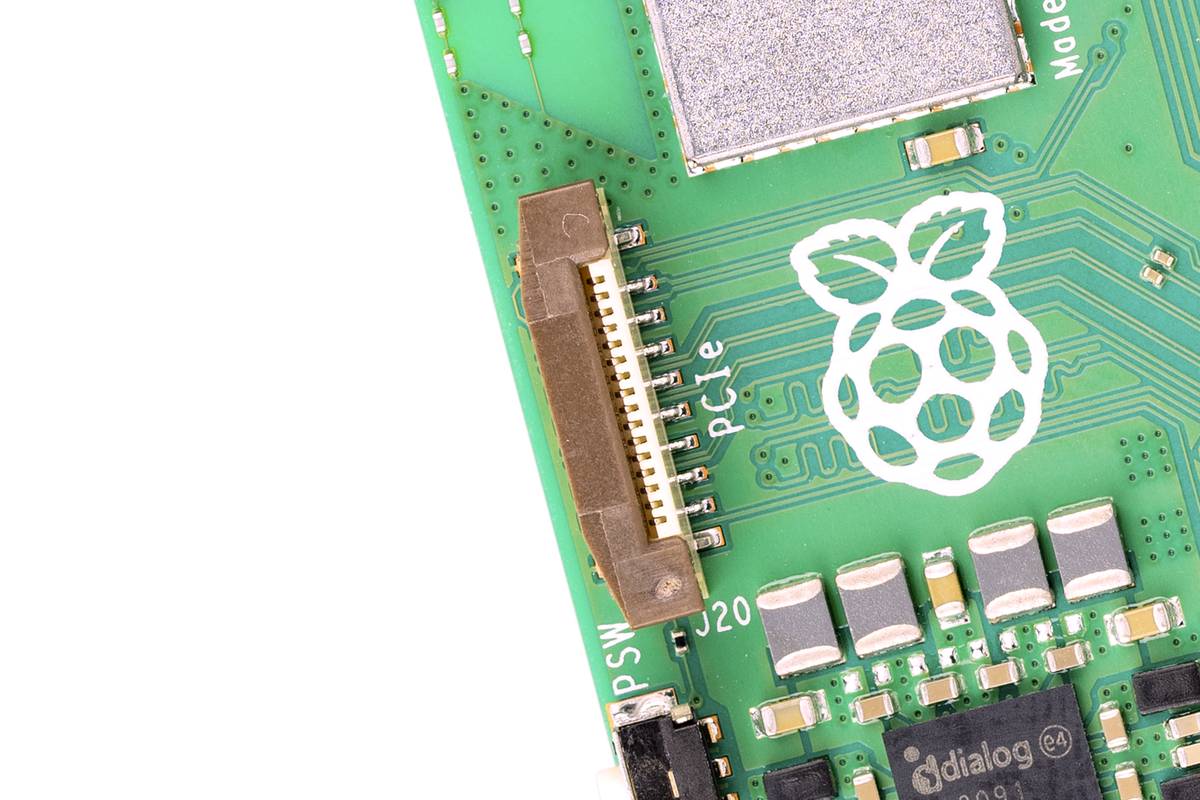 Onboard PCIe interface
Thanks to the new onboard PCIe 2.0 x1 interface, you can now control SSDs and interface cards at high speed.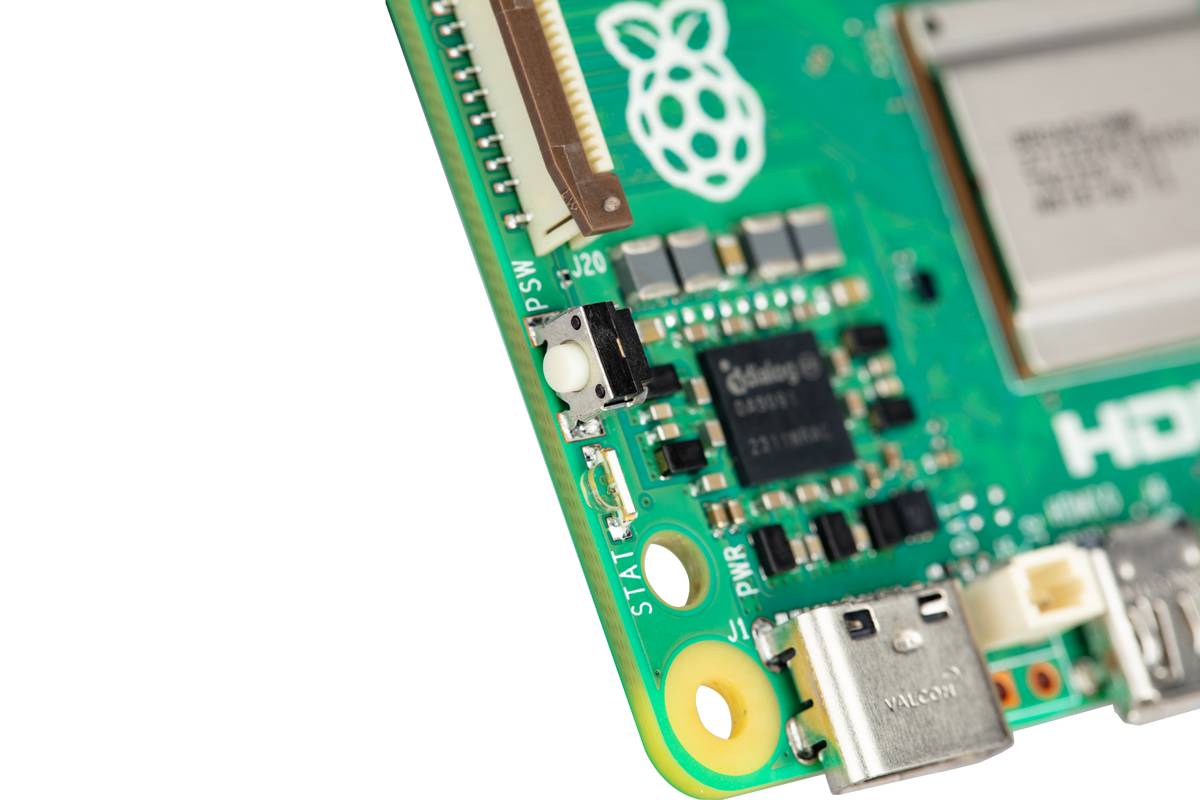 Integrated On/Off button, RTC support, and a two-color status LED
The Raspberry Pi 5 boots immediately with a connected power supply, just like the Pi 4. However, it can now be safely shut down and restarted using the integrated Power button. The two-color status LED provides a clear indication of the current state. What's new is the Real-Time Clock support - with an optional, rechargeable RTC battery connected, the Pi 5 won't lose track of time even when power is lost.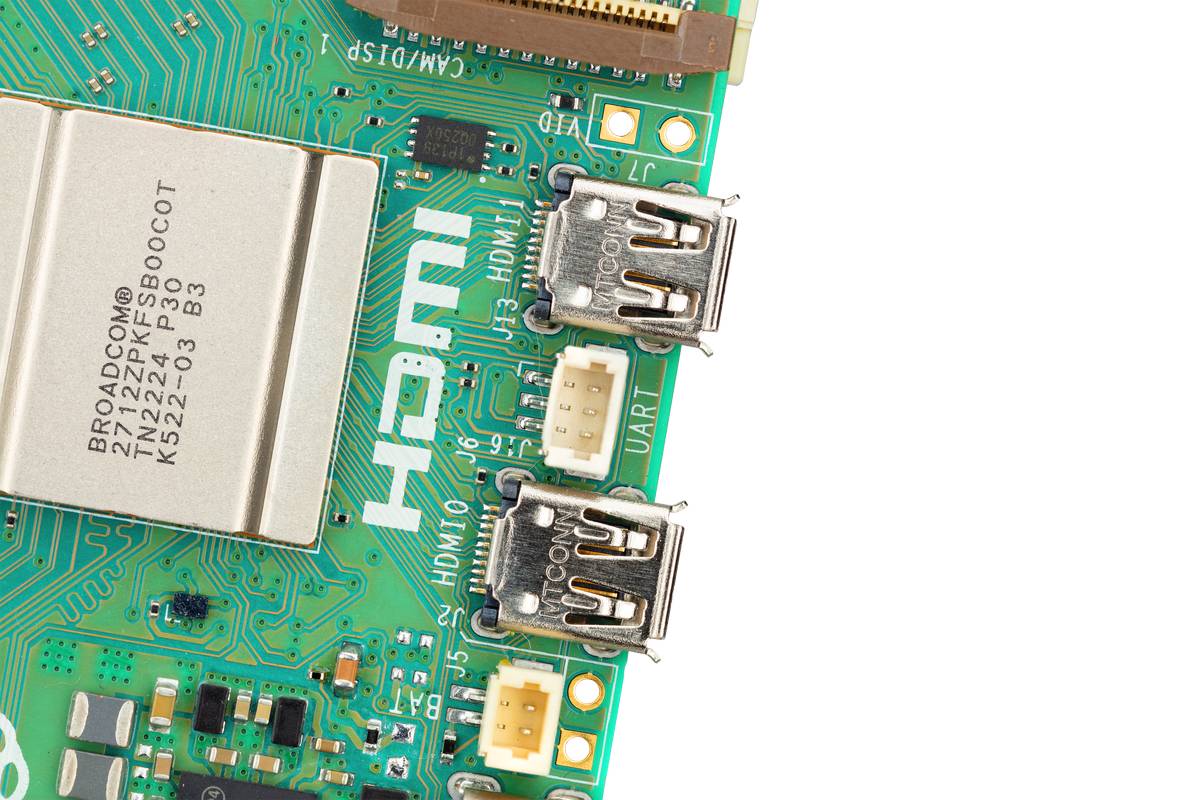 Two micro-HDMI 2.0 ports up to 4Kp60, new UART port
The two micro-HDMI ports of the Pi 5 can now simultaneously drive two displays with up to 4K and 60 frames per second. The new 3-pin UART port allows access to the terminal output and is compatible with the Raspberry Pi Debug Probe.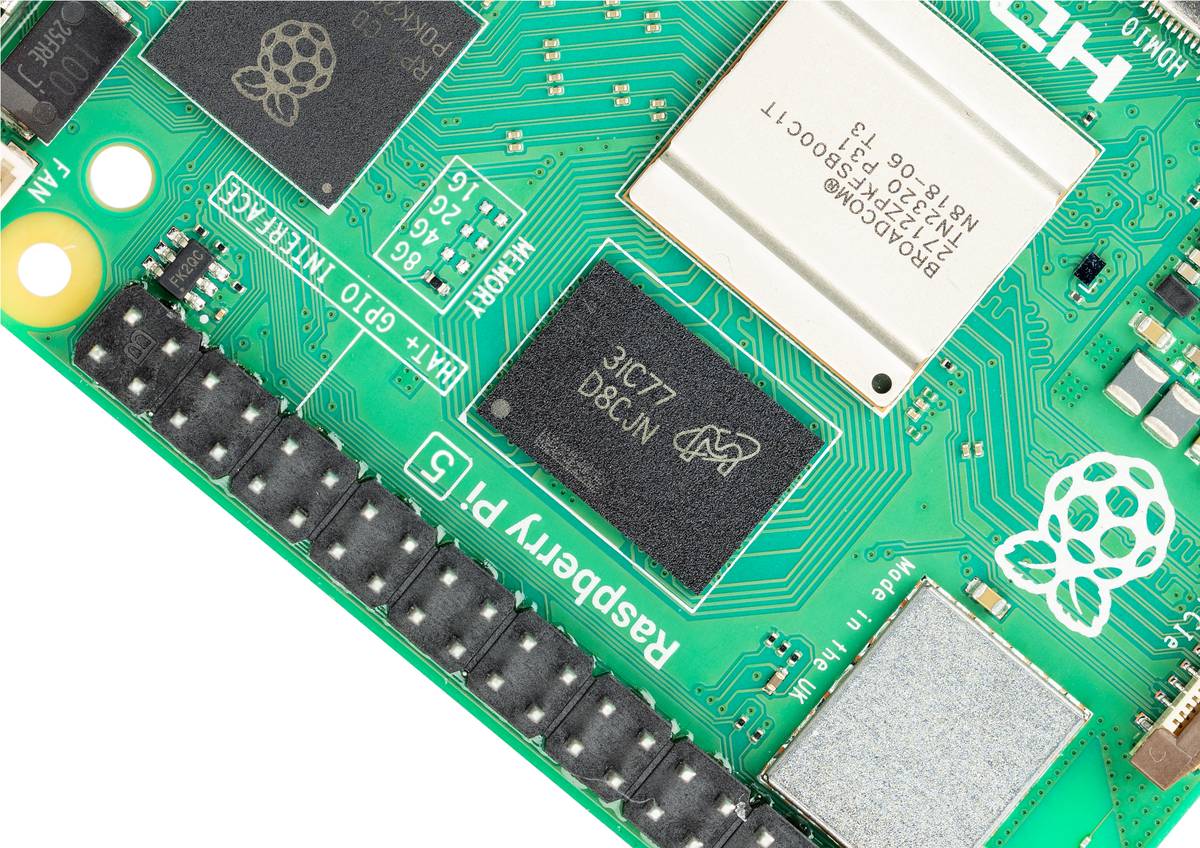 4 or 8 GB of RAM
The Pi 5 offers either 4 GB or 8 GB of LPDDR4X RAM, providing ample reserves. The installed memory size is now directly labeled on the board.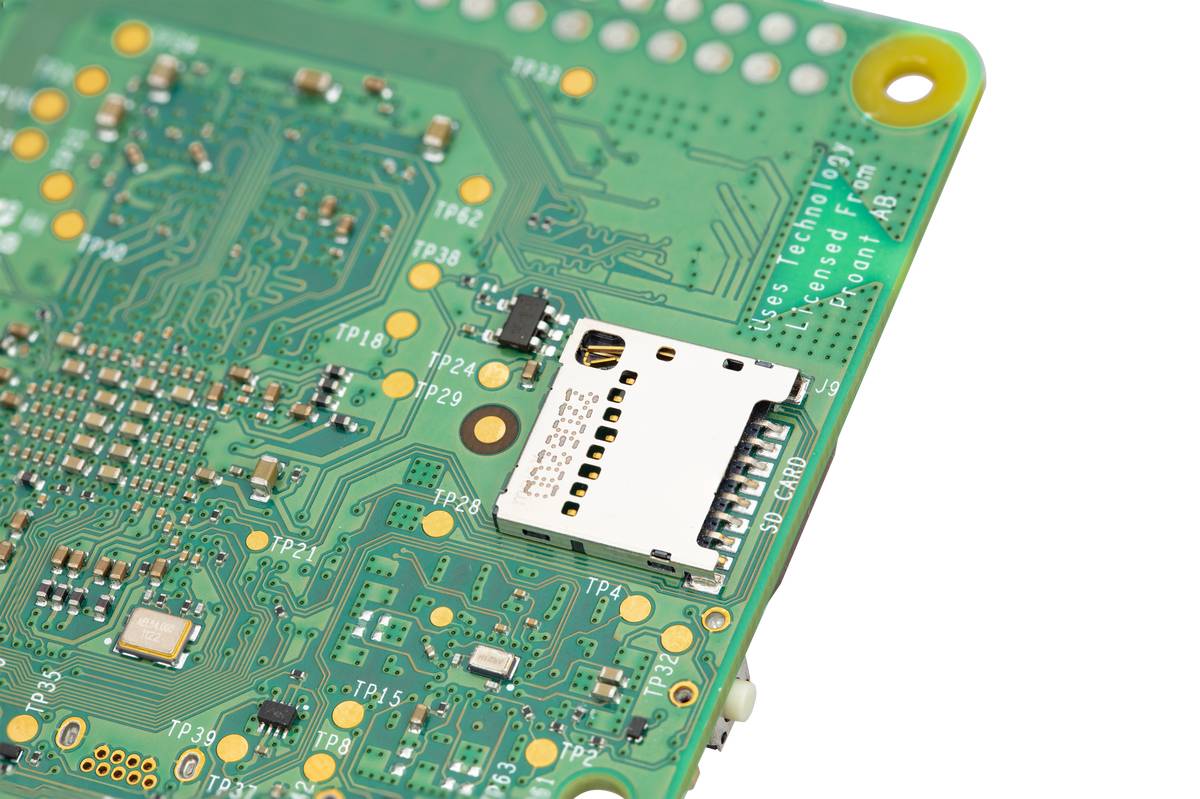 Faster microSD slot
The microSD slot of the Raspberry Pi 5 supports the SD104 standard and is now twice as fast as the Pi 4, with speeds of up to 104 MB/s.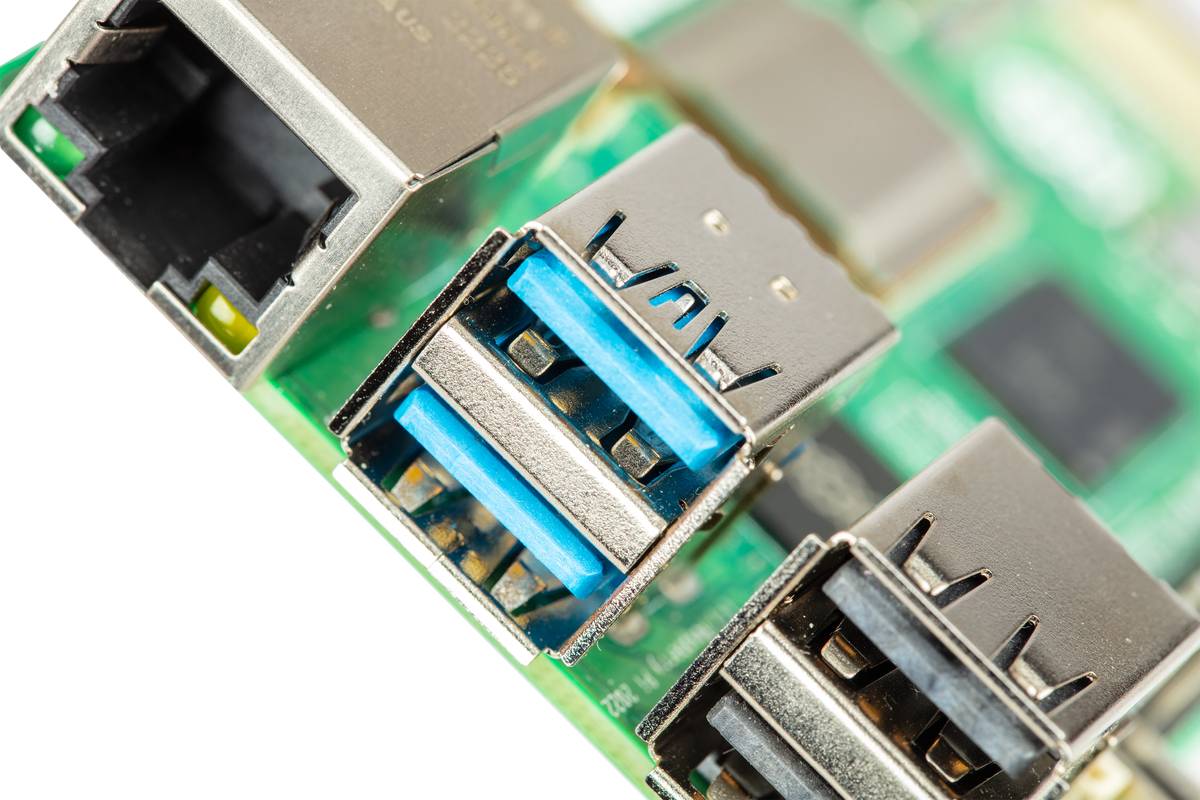 USB 2.0, USB 3.0 and Gigabit LAN
The Raspberry Pi 5 offers Gigabit Ethernet with speeds of up to 1000 MBit/s, two USB 2.0 ports, and two USB 3.0 ports. The USB 3.0 ports now support full 5 Gb/s even during simultaneous transfers and can supply devices with up to 1.6A of power.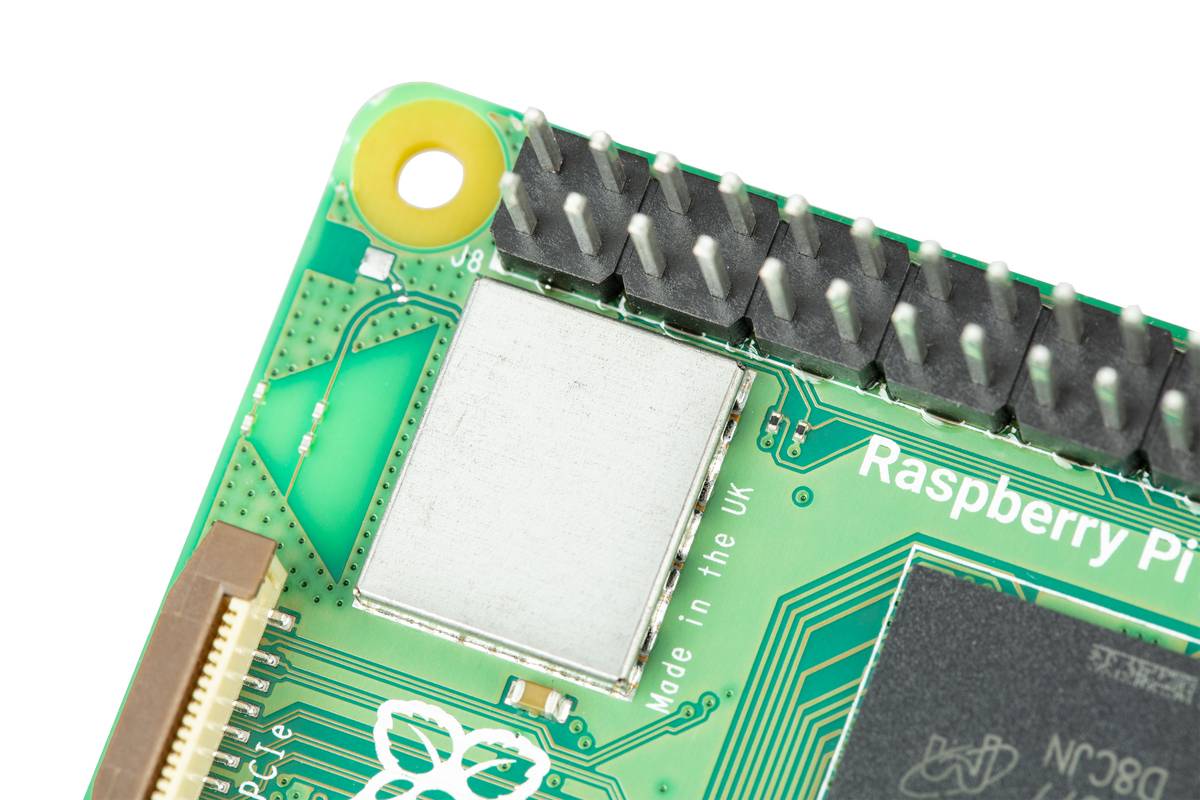 Dual-Band WiFi with Bluetooth 5.0 and BLE
The WiFi operates as before on 2.4 and 5 GHz according to the IEEE 802.11b/g/n/ac standard. Bluetooth is now onboard in the latest version 5.0 and provides Bluetooth Low-Energy (BLE) functionality.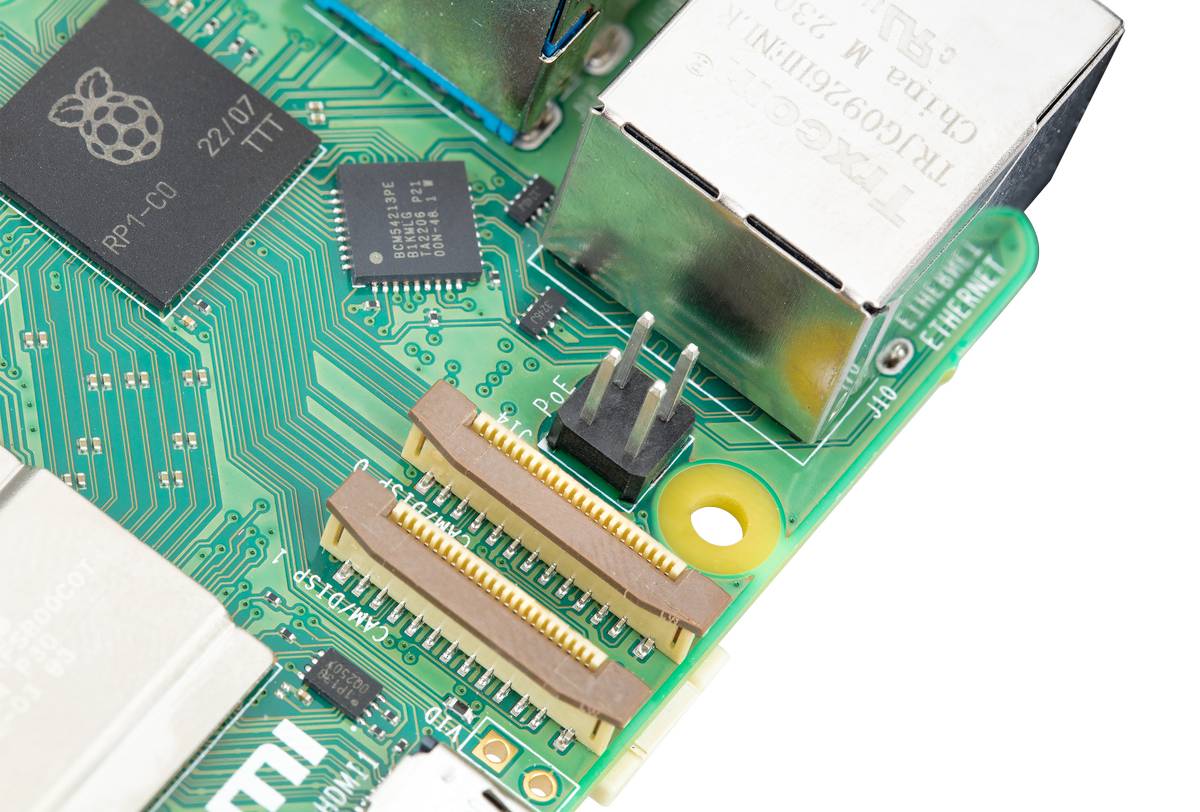 PoE+ support
With the optional new PoE+ HAT for the Pi 5, the board can be powered through its own LAN port. Up to 5V/5A is now possible according to the 802.3af/at PoE+ standard!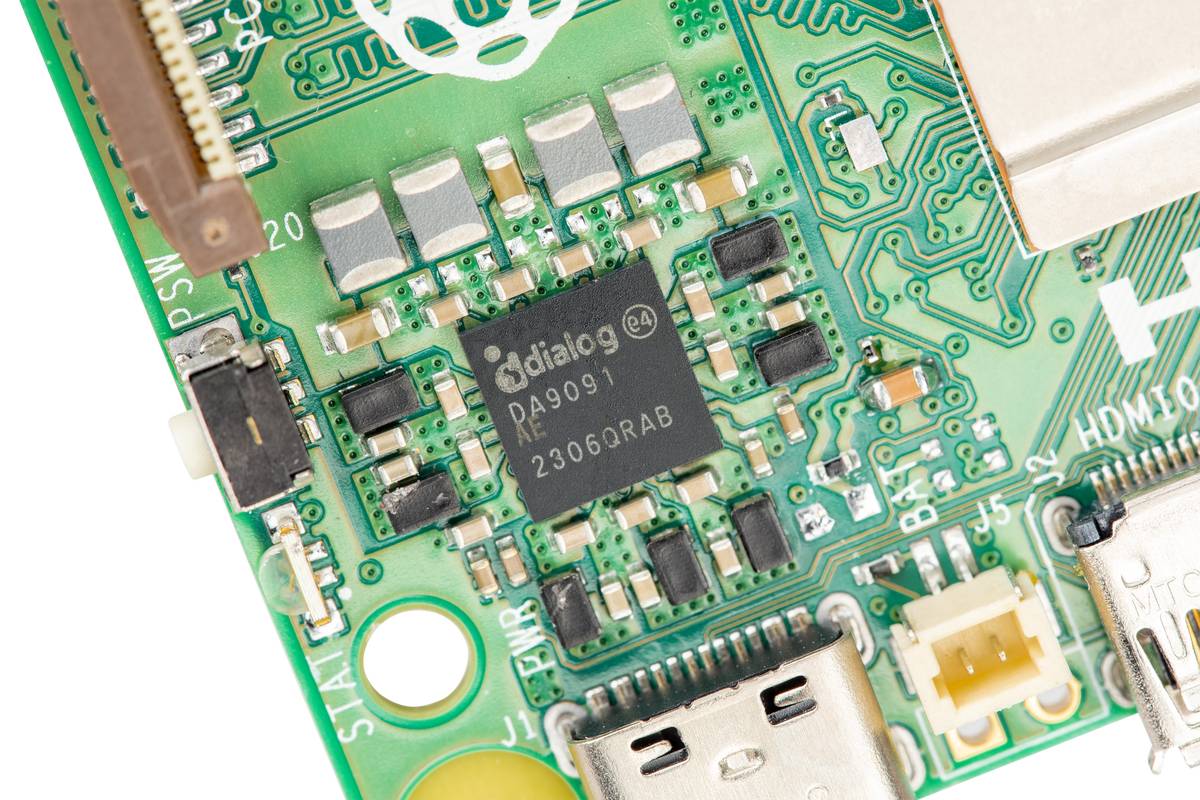 Power supply via USB-C with a new PMIC
Thanks to the new PMIC IC developed specifically for the Raspberry Pi 5, the board supports power supplies of up to 5V/5A while ensuring backward compatibility with weaker 5V/3A power supplies. Live measurements of the PMIC can now be read through the operating system.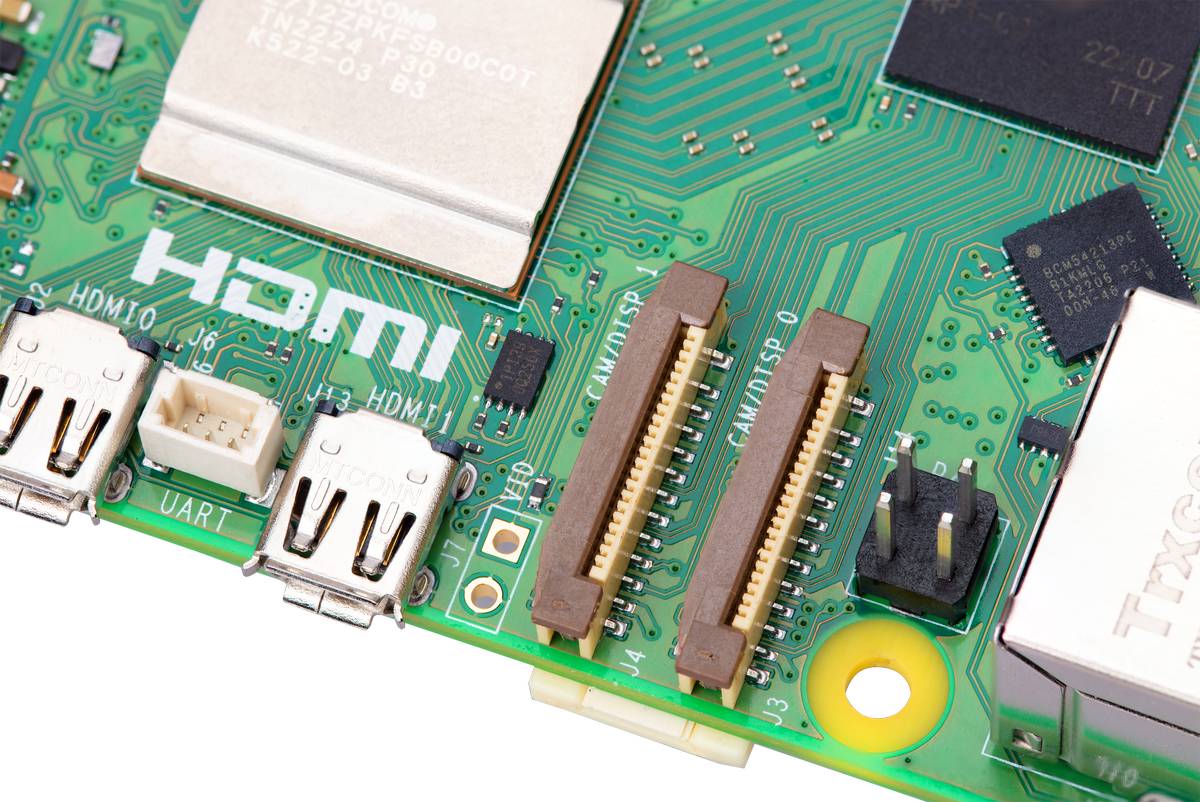 New 4-Lane MIPI ports for CSI/DSI
Two MIPI ports can connect either two DSI displays, two CSI cameras, or a combination of one each of CSI/DSI devices. With four lanes per port, they are connected at twice the speed compared to the previous Pi 4.
Notify me when this product is available
Send me a notification mail when the product is on stock again:
Send me a notification mail when the product is on stock again: