DMMCheck Plus Multimeter Calibration Reference
Description
The DMMCheck Plus is a battery powered instrument that checks seven important functions on a DMM: AC and DC Voltage, AC and DC current, Resistance, Frequency, and Duty Cycle. If you have a DVM or DMM that has questionable accuracy, the DMMCheck Plus can give you the confidence you need before relying on your test equipment. A 9 volt battery pack is included.
The DMMCheck Plus provides the following test circuits:
Resistance: 100Ω / 1.00 kΩ / 10.0 kΩ / 100 kΩ (±0.1%, 10ppm precision resistors)
DC voltage: 5V, ± 0.007% voltage reference
DC current: 1mA, ±0.1% current source
AC voltage: 5V RMS, bipolar (+5V, -5V) square wave, ±0.1% voltage source
AC current: 1mA RMS, ±0.2% current source
Frequency: 100 Hz / 10 kHz, ±0.02% signal source
Duty Cycle: 100Hz, 5V RMS, signal source has 50% ± 0.05% duty cycle
Capacitance (with pre-installed L/C option): 1nF / 10nF / 100nF / 1µF (±0,05% precision capacitors)
Inductance (with pre-installed L/C option): 1µH / 10µH / 100µH / 1mH (±0,05%)
Specifications
AC/DC voltage output, output resistance : 25Ω, typical* 
Current drain: 5mA, typical* 
Dimensions (no enclosure) : 63,5 x 55,9 mm 
Dimensions (with enclosure): 76 x 76 x 54mm
Battery: Alkaline 9V block (included)
*) The DMMCheck Plus is calibrated with a 10MΩ load connected to the voltage output terminals when measuring DC; 10MΩ is the typical input resistance of most DMMs when measuring DC Volts. A 1MΩ load is used for AC Volts.
Package Contents
DMMCheck Plus with enclosure and dual frequency option
9V battery pre-installed
Calibration certificate
Cushioned packaging
Features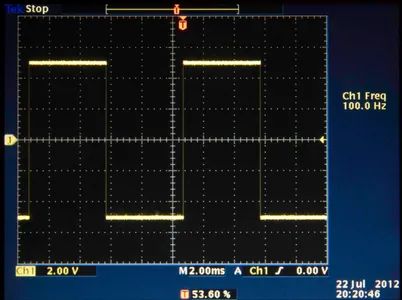 5 VDC and 5 VAC RMS Voltage Reference
The 5V reference voltage is based on the Linear Technology LT1021BCN8-5 buried Zener reference IC. After "aging", the trim potentiometer is carefully adjusted for a reference output of 5.0000V as measured by our calibrated 8.5 digit Keysight 3458A DMM that has an accuracy of 0.0008%. A 0.1% accurate, 5.00VAC RMS, square wave 100Hz voltage source is used to check the AC voltage accuracy of your DMM. The signal is true AC (bi-polar), not pulsed DC. It can also be used to check the compensation of oscilloscope probes.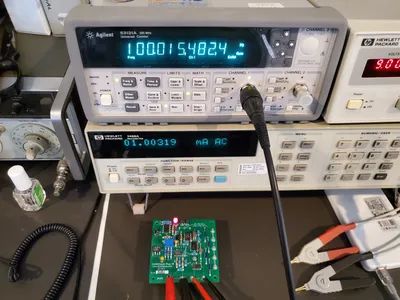 Focused on Precision
100Ω, 1KΩ, 10KΩ, and 100KΩ 0.1%, 10ppm/⁰C resistors (Vishay type PTF56), connected in series are available to check the resistance function of your DMM. Depending on how you connect your meter leads many different resistance values are available. The resistors are guaranteed accurate within 0.1% of their stated values, but the actual value obtained with a 4-wire (Kelvin) measurement using our HP 3458A (.001% accuracy on Ohms) is provided on the as-measured record.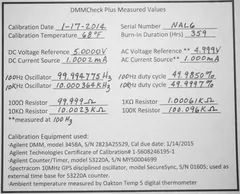 Calibration Certificate
Each DMMCheck unit comes with a measured-values calibration sheet.