Jetperch Joulescope JS220 Precision DC Energy Analyzer
Description
The Joulescope JS220 is an affordable and easy-to-use instrument that enables you to create better, more energy-efficient products. Measure current from nanoamps to amps while simultaneously measuring voltage, power, and energy.
300 kHz bandwidth with 2 million samples per second, 16-bit, simultaneous current and voltage
Rapid 1 µs switching between shunt resistors for seamless dynamic current measurement
Measure DC and AC components with full four-quandrant capability
Extremely low voltage drop for current measurement of only 25 mV/A
Computes power and total energy
Sensor ports electrically isolated from USB
Works with Microsoft Windows, Apple Mac OS X and Linux
All Joulescopes come fully calibrated from the factory at no additional cost. The optional ISO calibration option includes additional testing and calibration performed by our accredited calibration laboratory.
Model Overview
Joulescope JS220
Joulescope JS110
Bandwidth
300 kHz
250 kHz
Sampling Rate
2 MS/s
Resolution
16 bit
14 bit
Voltage Range
-15 .. 15 V
-1 .. 15 V
Current Range
-3 .. 3 A
(10A Pulse)
-1 .. 3 A
(10A Pulse)
Current Reading Resolution
0.5 nA
1.5 nA
Internal Resistance
25 mOhm
Interface
USB 2.0 (electrically isolated)
Package Contents
Joulescope JS220 with installed banana jack front panel
USB cable
GPIO Cable
USB Cable
T15 Torx screwdriver (for swapping the front panel)
Quick Start Guide
Carrying case
Quick Start Guide
Features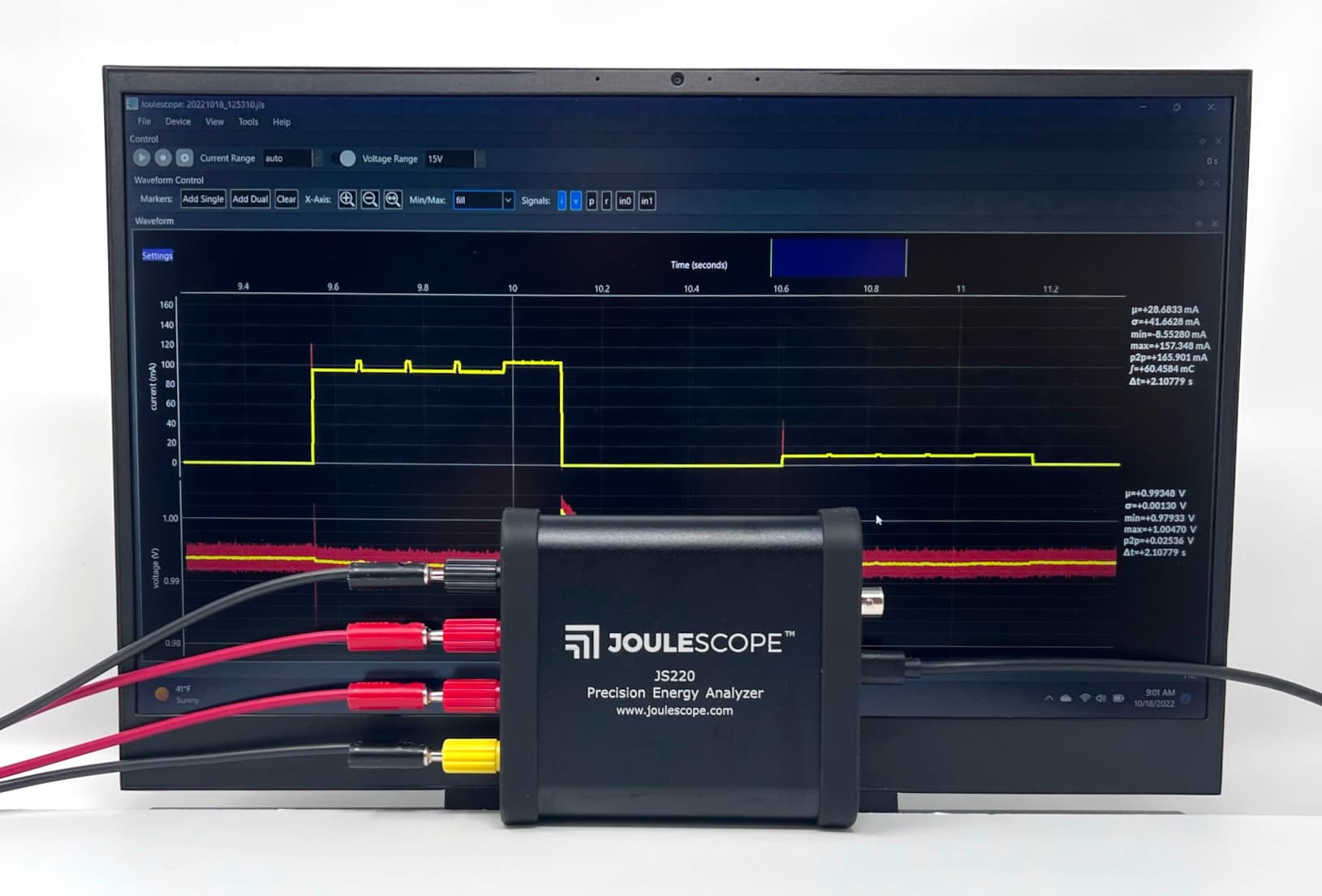 All on your computer
Joulescope connects entirely using USB with no external power adapters. Easily navigate your data using a mouse and keyboard.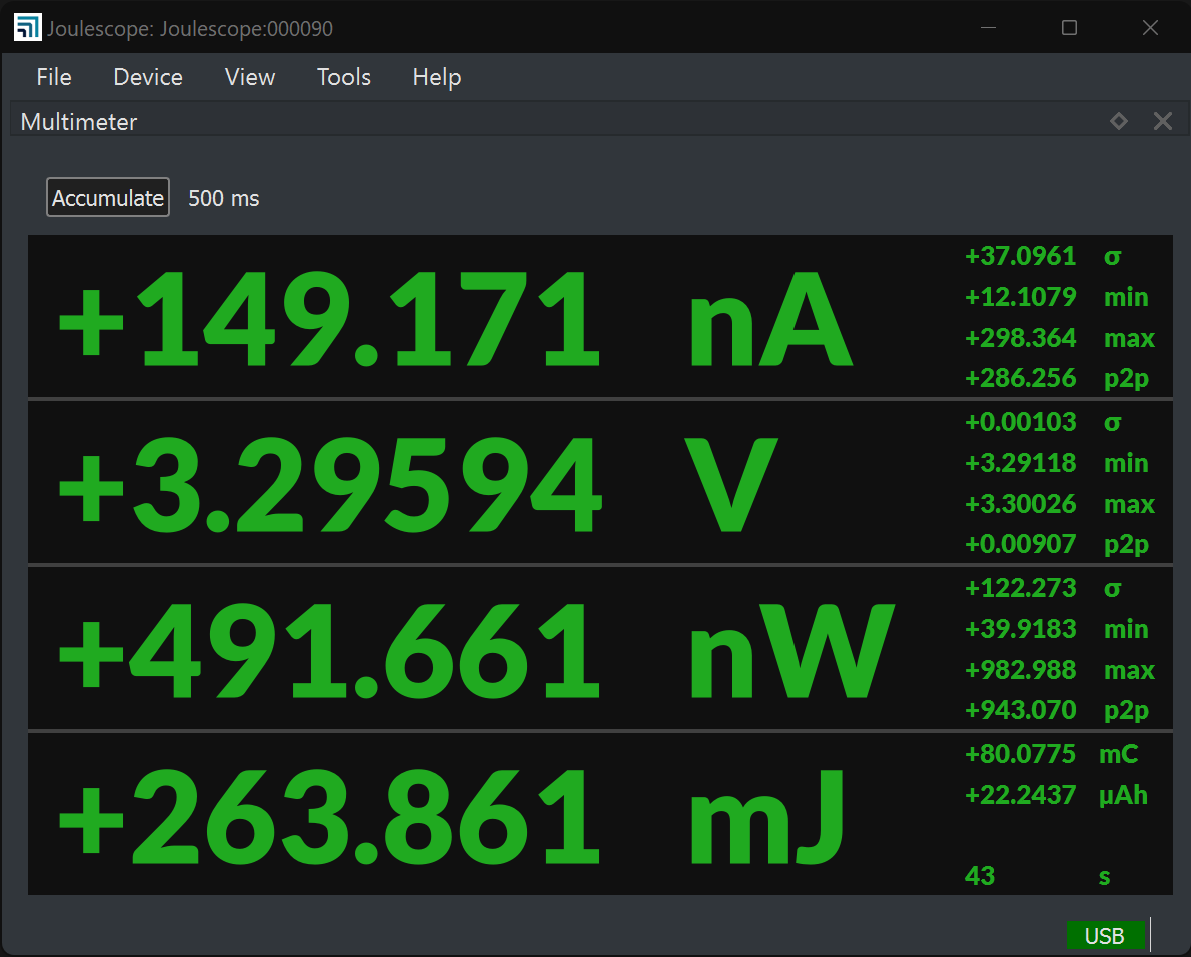 View instantaneous values
Joulescope captures and displays the instantaneous current, voltage, power, energy, and charge, like a multimeter.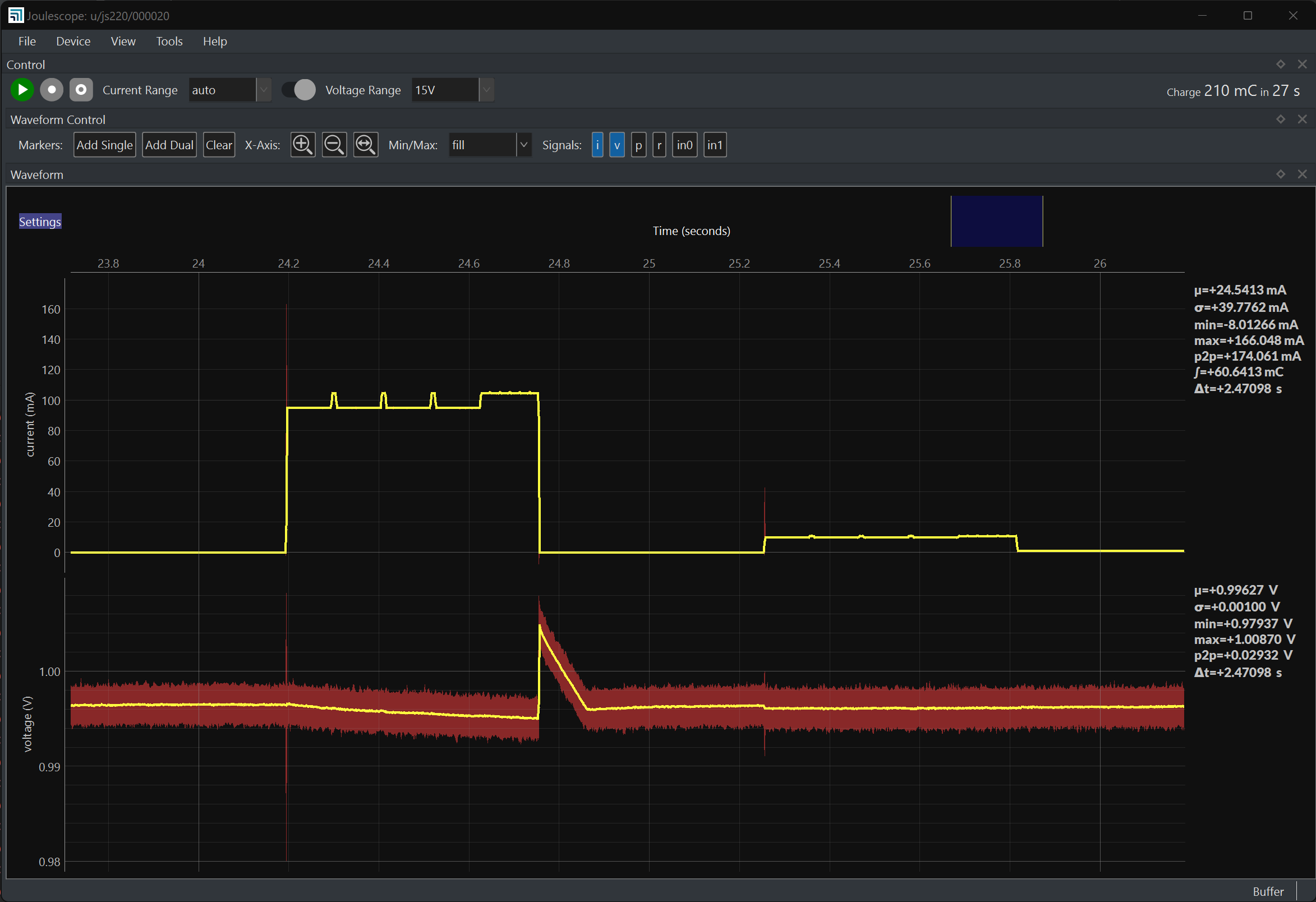 View waveforms over time
View changes over time, like with an oscilloscope. Navigate through your data, select regions of interest, and explore where your device uses the most current and power.
Joulescope UI Software
The powerful Joulescope UI software for Windows, Mac and Ubuntu Linux is included as standard. It allows different data views, data logging, data export and more.
---